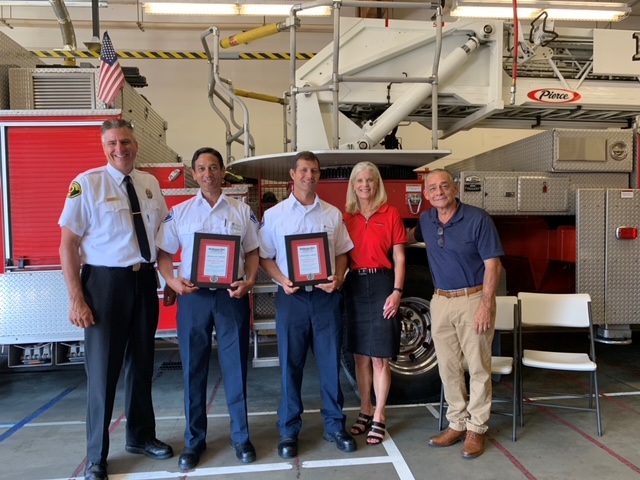 Lifesaving Recognition Gathering
Two Bellevue Firefighter-Paramedics were recognized for their lifesaving bravery, heroism, and courage – Mike Cruz and Keegan Tachell, thank you!
Physical heroics, skill and expertise, and sheer determination and perseverance all came together to save a hiker's life over the course of 12 hours and in adverse weather conditions. With Fire Chief Jay Hagen and his leadership, the Bellevue Fire Foundation was proud to recognize the great work of two Firefighter-Paramedics, Mike Cruz and Keegan Tachell.
It occurred in the North Bend wilderness area on the Kamikazie Boot Trail above Teneriffe Falls where a hiker fell down a 300' steep embankment and sustained major injuries. Cruz and Tachell hiked the three miles and 2,000' elevation gain to begin rescue efforts alongside Seattle Mountain Rescue. Without hesitation, they were lowered down 300' of a vertical and steep embankment to where the victim was precariously pinned under a fallen tree perched on the edge of a larger cliff. They worked through a plan to treat the patient in place and deliver the needed medicines that allowed the rescue effort to continue. As part of the rescue team, Cruz and Tachell played an integral role in coordinating and managing the extrication, removal, packaging, and medical care during the entire operation while wearing rescue harnesses secured to rope systems for most of the operation. On top of that, a series of severe weather storms passed through the area during the 11-1/2 hour operation. Their swift and decisive actions resulted in the patient being safely transported to Harborview Medical Center by Navy Rescue Helicopter.
Keep up the great work Bellevue Fire Crew – know how much your community appreciates you!