The Bellevue Fire Foundation supports the Bellevue Fire Department in saving lives, property, and the environment by turning donations into equipment and education.
WILDLANDS BRUSH TRUCK IS IN SERVICE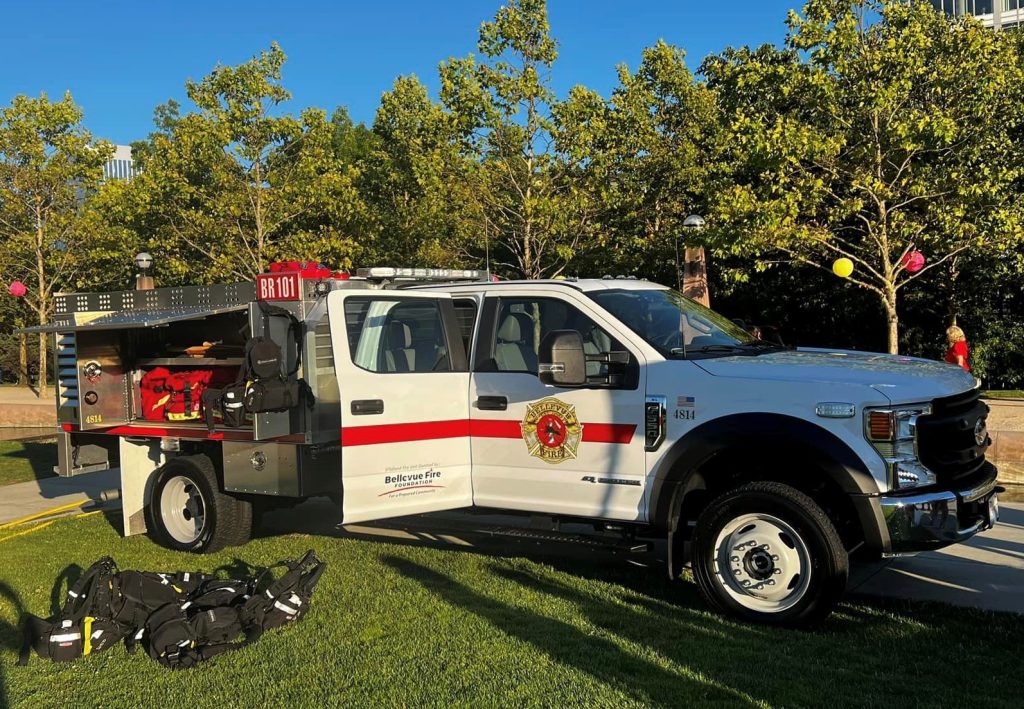 The Type 6 Wildlands Brush Truck was put into service on August 1, 2023 with a community celebration, just in time for wildfire season. Brush Truck 101 is the first of its kind joining the Bellevue Fire Department's fleet of engines and ladder trucks.
Thank you, Amazon, Bruce McCaw Family Foundation, and the many donors who gave so generously. Your gifts allowed us to purchase the brush truck and equip it with the necessary tools and equipment. We are just $12,000 away from fully outfitting the truck.
Thank you, Amazon for your generous support and partnership with Bellevue Fire Foundation by providing a $150,000 matching grant!

Our mission is to support the Bellevue Fire Department in protecting life, property, and the environment by providing equipment, training, and community engagement programs that go beyond city resources.
SUPPORT
Less than 3% of the fire department's budget covers the cost of essential equipment, new technology, and training to help firefighters do their job.
While the BFD strives to keep pace with the rapid growth within its budget, the Foundation is a supplemental resource for areas that can be enhanced.
A THRIVING CITY
As Bellevue continues to grow, so too are the increasing demands on our firefighters as they respond to emergencies in the shopping districts, neighborhoods, high-rises, and lakes.
BY THE NUMBERS
– 7 communities served (Bellevue, Medina, Clyde Hill, Hunts/Yarrow Points, Beaux Arts, Newcastle)
– 39 Square Miles Protected
– 220 Firefighters and Paramedics
– 9 Fire Stations (No. 10 in 2023)
– 4 Paramedic Units
– Incidents: 18,744 in 2020; 1.55% were for fire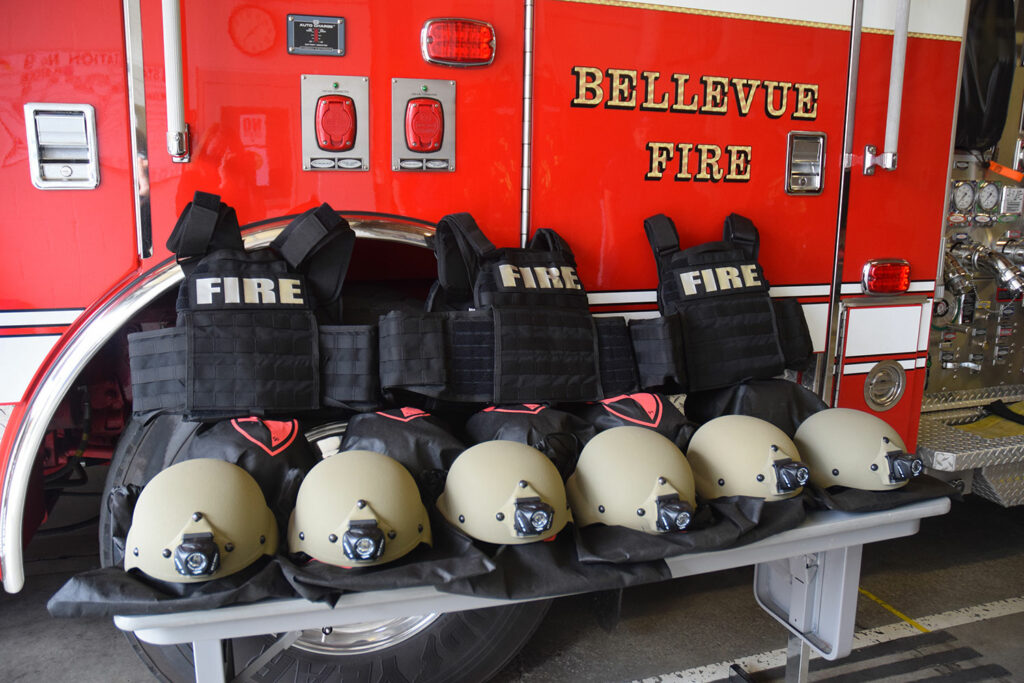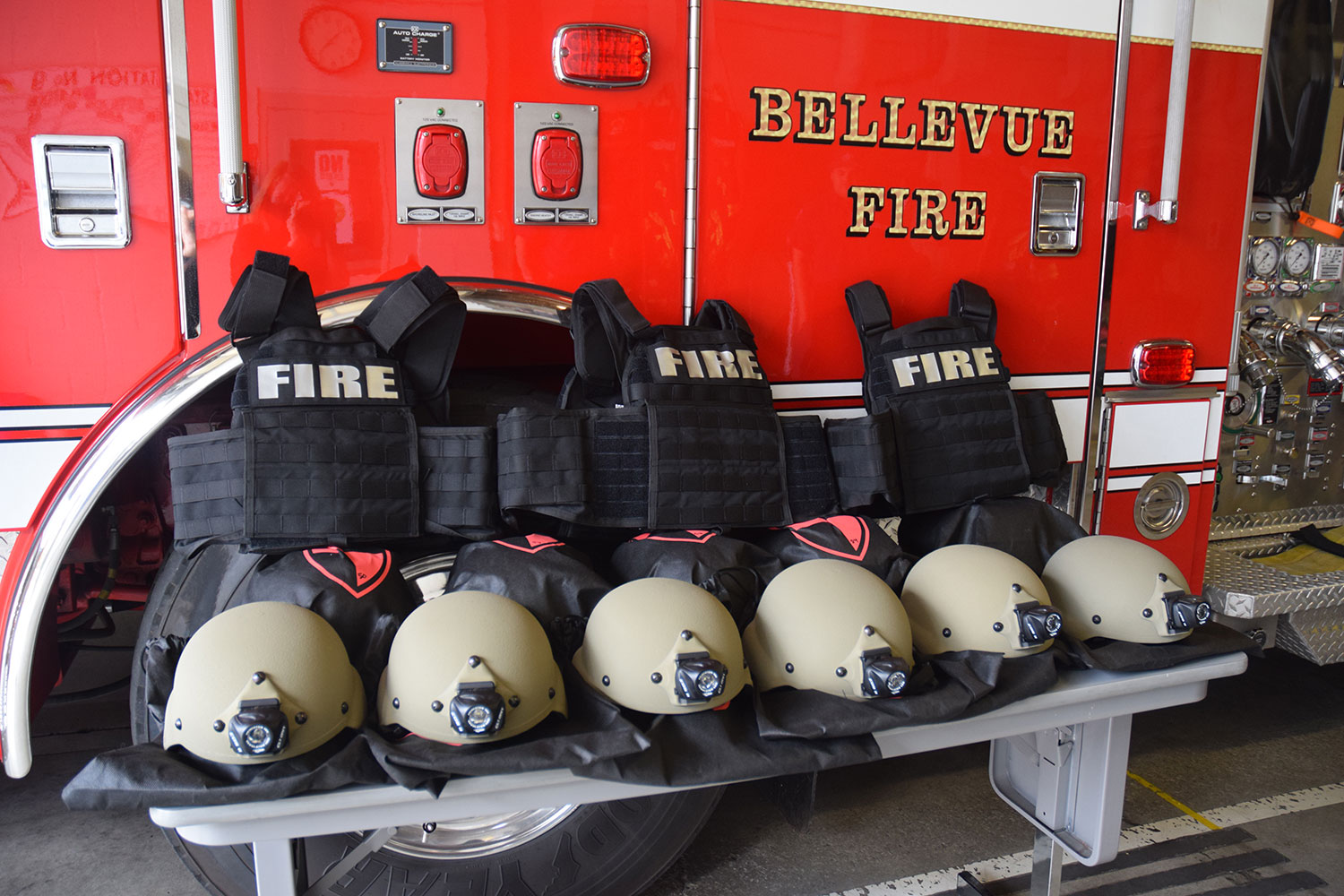 Enhanced Equipment
A Bellevue firefighter's job has grown substantially in scope – they must be prepared to respond to "all hazards" while also facing new risks to their health and wellbeing. Leading-edge lifesaving equipment and technology will address increased complexities with innovative solutions.
Training
Leadership development, continuing education, and fire training are at the forefront of public safety preparedness. The Foundation helps the BFD with funding for technical programs, specialized training, and a professional curriculum to develop leadership skills among firefighters transitioning to lieutenants.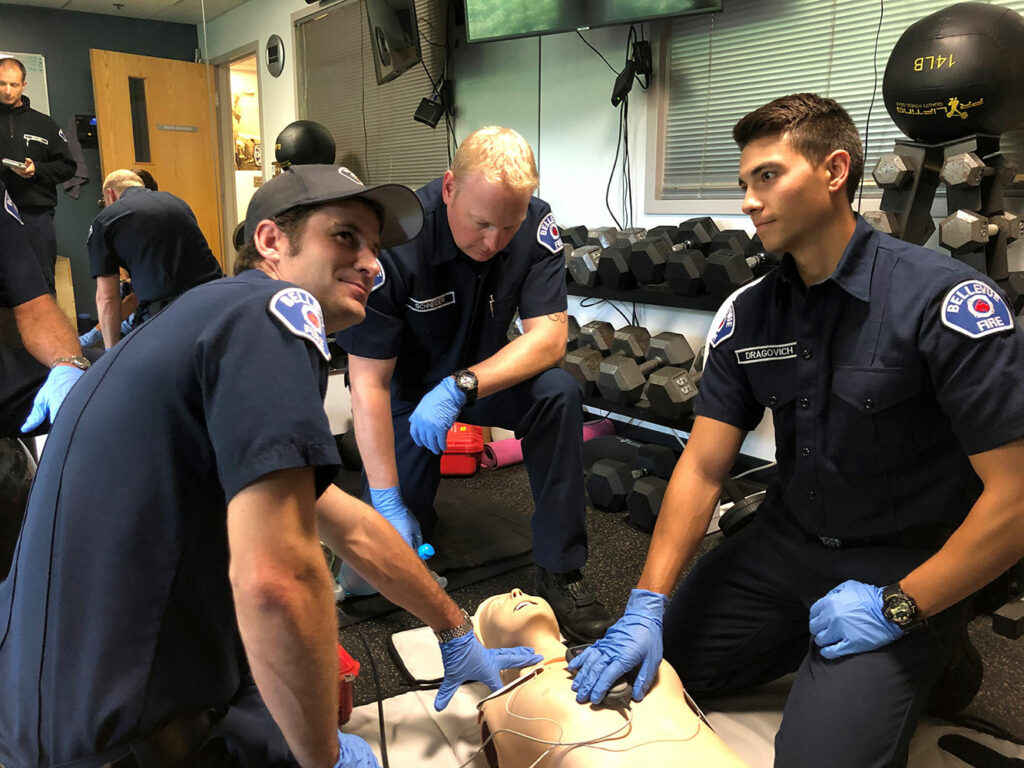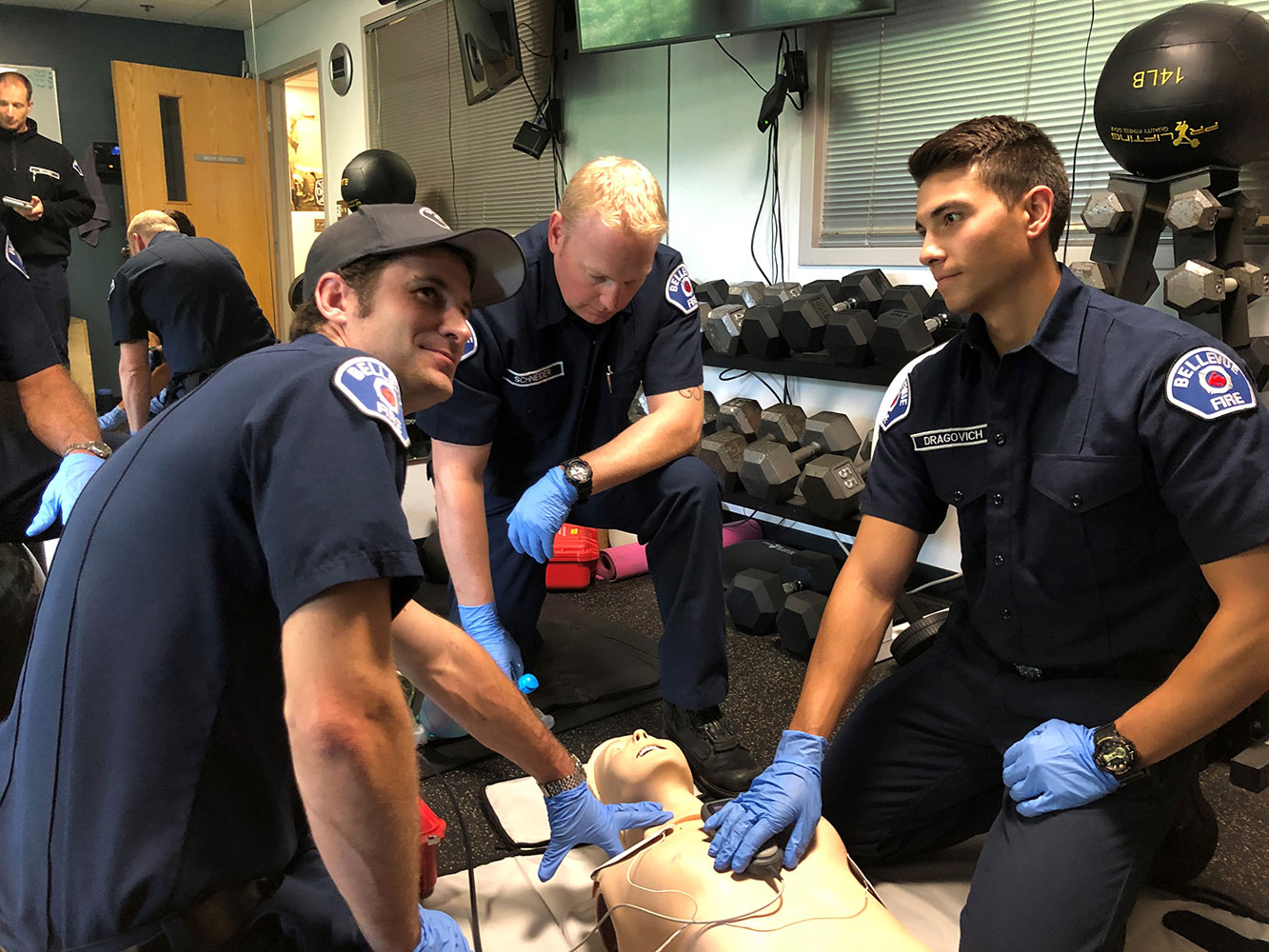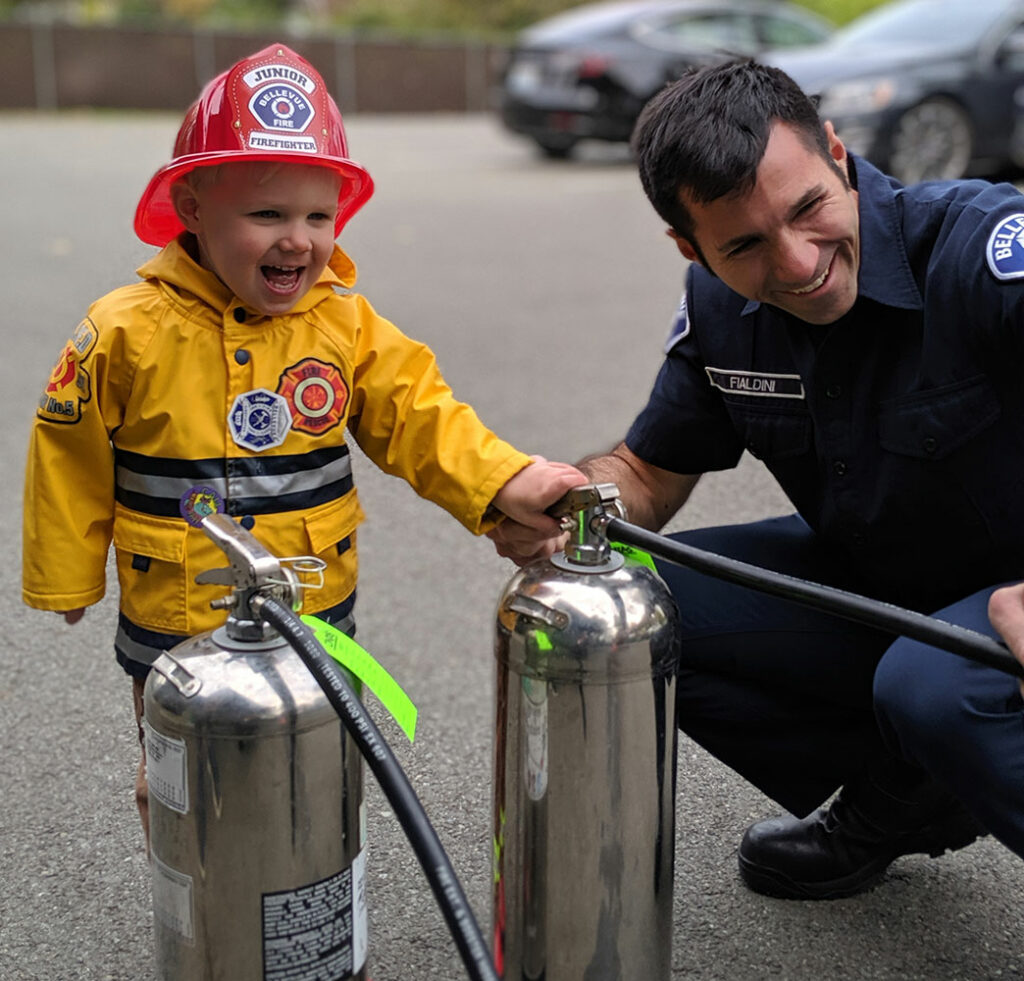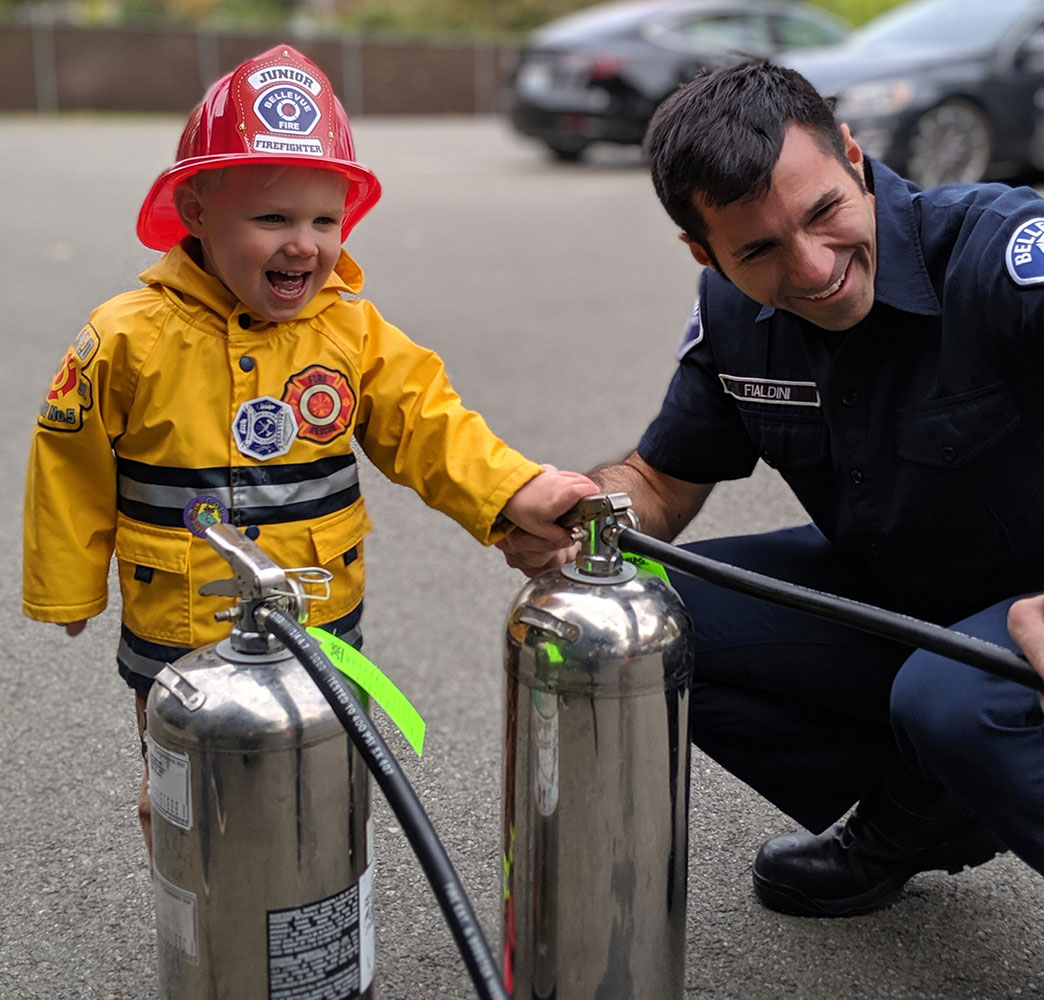 Community Outreach
Community outreach and education are essential in strengthening BFD's ability to engage effectively across the diverse population it serves. Special focus is on its most vulnerable populations – children, senior citizens, and those with limited to no English proficiency. The Foundation helps the BFD by providing enhancements to improve communications and expand public engagement in all Bellevue neighborhoods.
Recognition and Morale
As the opportunities arise, the Foundation recognizes sworn and civilian members of the Bellevue Fire Department for going above and beyond to keep our community safe. Having community members recognize this department's outstanding work every day builds morale and improves retention.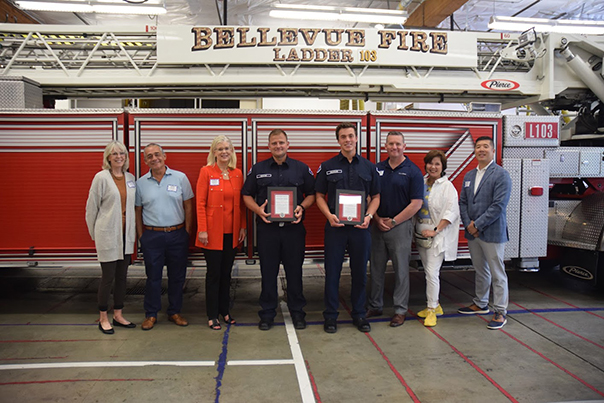 The Bellevue Fire Foundation is a 501c3 nonprofit organization created to support the Bellevue Fire Department by providing added financial resources for equipment and training to those who keep us safe.