AMAZON SMILE REWARDS DESIGNATION
You can designate Bellevue Fire Foundation to receive donations from Amazon whenever you shop on Amazon.
Amazon is one of the most widely used websites in the world. If you already shop on Amazon, or if you're looking for the perfect gift for a loved one, we invite you to shop at smile.amazon.com and choose Bellevue Fire Foundation as your charity of choice.
Follow the instructions below to set up AmazonSmile.com.
HOW TO DESIGNATE AMAZON SMILE REWARDS
To designate Bellevue Fire Foundation to receive rewards when you shop at Amazon, use the instructions below after you click on the following link: smile.amazon.com and sign in with your normal Amazon.com credentials.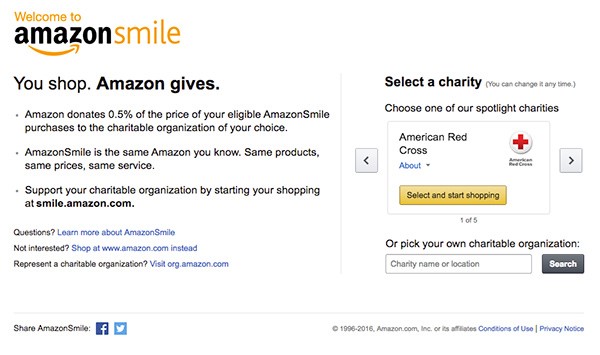 There are different configurations for this initial screen but look for the "Or pick your own charitable organization". In that field enter "Bellevue Fire Foundation"
Choose the "Select" Button.
You can change your charity at any time. Simply visit smile.amazon.com/change, or tap "AmazonSmile" within the Settings menu in the Amazon Shopping app on your phone and select "Change your charity". Your AmazonSmile purchases made after changing your charity will count towards your newly selected charity.
TO CHANGE YOUR DESIGNATION: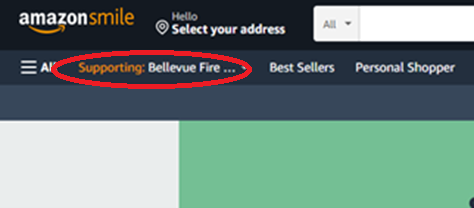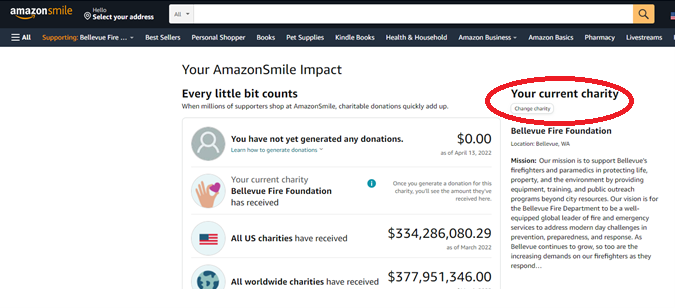 ways to give
telephone
email
mail
Bellevue Fire Foundation
P O Box 844
Bellevue, WA 98009-0844
fEIN 85-3767595